Here is my brief conversation with the Villain himself, touching on topics such as his upcoming WINE project, the infamous Skimask & more...
M: Its almost been a year since we last talked, how've you been?
SC: Yeah its been a minute fam ,Im actually Excellent after diamonds&guns dropped i took a lil hiatus to watch things a few lil feat. here and there ..But me watching changed my whole perspective about how i should go about making music its alot of politics going on in hip-hop but only the strong will survive and honestly its quality over quantity & with so much bullshit dropping only a select few stick out. i plan on being one of those select few
M: Ok so where did the James Bond theme for 'The WINE' come from?
SC: The james bond theme was already a idea brewing in my brain for years i just wanted to make sure it would get the proper representation and backing for what i visioned 2011 seemed perfect for me to take charge and start creating As you know The W.I.N.E stands for The World Is Not Enough & through this conceptual album ill explain metaphorically what that means to me
M: If you could choose, which song off of 'The WINE' did you enjoy working on the most?
SC: Hmm thats a hard one as an artist we are hard on our own music ...But id have to go with "Tomorrow Never Dies" its Classic i don't want to give any detail about the song
& spoil it for the Fans but im sure when they tune in they will understand why
M: What can we expect from 'The WINE'?
SC: Adventure,Creativity ,Razor-Sharp Wordplay ,New Styles, Elegance ,Aggression ,Knowledge/Wisdom
& a Epic display of Production..[i even produced about 4 of the tracks] Its 007 its only right!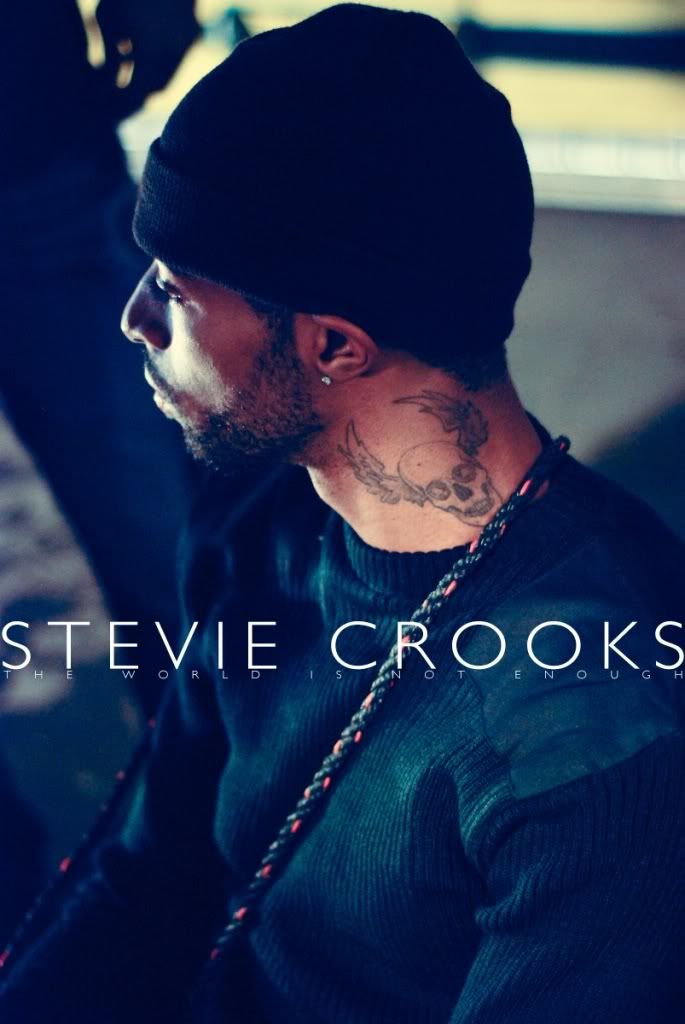 M: Last time around I asked you about your thoughts on the streetwear scene, how do you think it's changed in the past year, and if so for better or for worse?

SC: Sad to say ive strayed away a lil i still catch myself on hypebeast every once and awhile but id say now that im older the simple things catch me.. haha i feel like a old man saying this....but yeah Im in my murdered out Phase[black everything with a dashes of Red]




M: Are we ever going to see the Skimask again?

SC: Yo the mask is retired in a box collecting dust but you never know he may return with Vengeance




M: Did you have any New Year Resolutions?

SC: My new years resolution?...No Half Assing if there is something that needs to be done get it done this year NO DAYS OFF




M: Back to the music, are there any artists that you would like to work with that you haven't had a chance to already?

SC: Man its so many names of talented people id love to work with just to name a few..Stalley ,Cody b ware & the worlds fair fam ,MarzLovejoy,The homie Kris Kasanova,Kendrick lamar. even a heavy hitter like ROYCE da 59 .. its really about the Vibe ..that is key to making a great record with someone




M: What else do you have locked away in the vault for 2011?

SC: My vault is similar to Davy Jones Locker thats all im gonna say




M: For those who don't know, where can they peep some of your material out at?

SC: You can catch a villain on my official site//

My personal tumblr page//

and of course follow me on twitter//




M: Any last words? Shout outs?

SC: "POWER TO THE PRESTIGIOUS"

& a Salute to My Black Rose Renegades ,Zeniro ,Desi,TaEast&Cairo,Mike morales,Philmao ,Clementco..salute to All my villains & Beautiful Women 7 of course to NW very own Mitch
And don't forget to peep the teaser video for The WINE here!